*Please note that the size chart is fit for both men and women. Please choose your own size according to the figure of your own feet and your normal sizes.*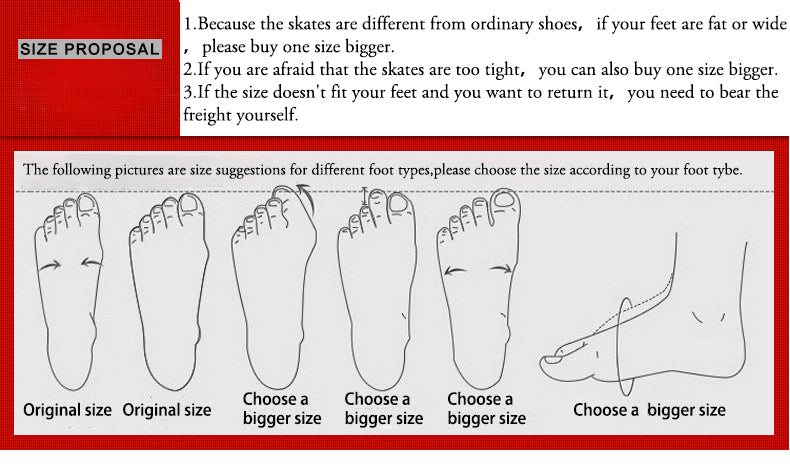 EUR
US
UK
Feet Length
Cm
Inch
Kid Size Chart
26
9.5
8.5
15.9
6.3
27
10
9
16.5
6.5
28
11
10
17.1
6.8
29
11.5
10.5
17.8
7
30
12
11
18.1
7.1
31
12.5
12
19.1
7.5
32
1
13
19.7
7.8
33
2
1
20.3
8
34
2.5
2
21
8.3
Adult Size Chart
35
4
3
21.5
8.9
36
4.5
3.5
22
9.1
37
5
4
23
9.3
38
6
5
24
9.4
39
7
6
24.5
9.6
40
7.5
6.5
25
9.8
41
8
7
25.5
10
42
9
8
26
10.2
43
10
9
27
10.4
44
10.5
9.5
27.5
10.6
45
11.5
10
28
10.8

Product Description

Anti-impact shoe shell, crashworthiness, protection of feet.

Washable and comfortable inner gall.

Simple and easy to use design a focus on stability.
Skates are the perfect beginner/intermediate skate to get you cruising around in no time.

Specification
Color: Blue, Pink

Material: PU Hard Shell + Mesh

Wheel: PU Elastic Wheels

Adjustable Or Unadjustable: Adjustable

Applicable to: Boy, Girl
PAYPAL CREDIT INSTALLMENT PAYMENT
Don't miss your favorite products because of the price!

Now, our online store has cooperated with PAYPAL and opened PayPal Credit! Use PayPal Credit to pay in installments on our website, and purchase goods without pressure. 
And, No Interest if paid in full in 6 months on purchases of $99 or more!!!
If you want to open PayPal Credit or learn more, please check the PayPal official website: https://www.paypal.com/ppcreditapply/da/us/lander?guid=GHT6LJ2KAI&assetId=TERMS

If you have any questions, you are welcome to contact our email service@inlineskatelover.com