Roller Skates VS Inline Skates VS Roller Blades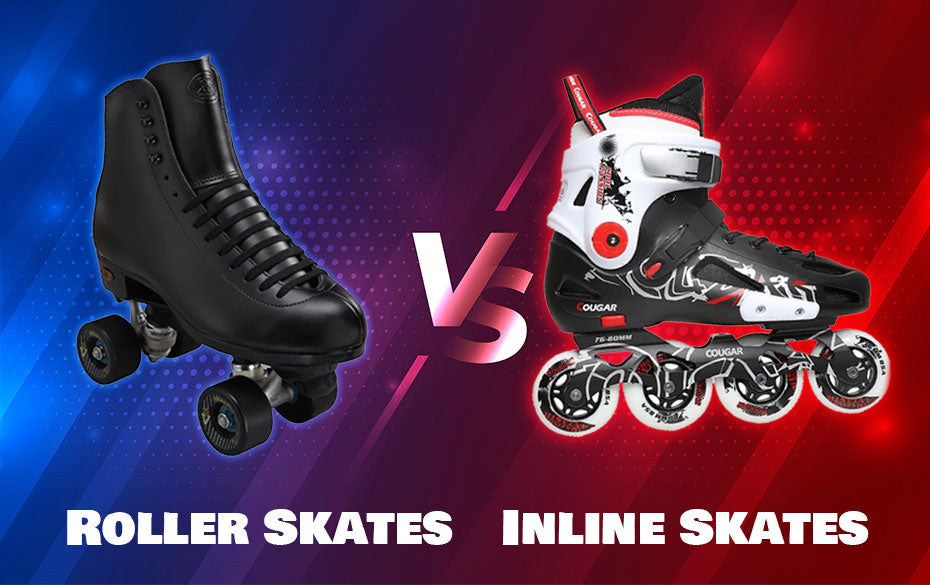 1. Rollerblades vs Roller Skates vs Inline Skates
2. What is the difference between roller skating vs rollerblading?
2.1. Quad Roller Skates
2.2 Rollerblades
2.3 Inline speed Skates
3. Different types of Skates according to activity
3.1 Roller derby
3.2 Speed skaters
3.3 Artistic roller skating
3.4 Recreational Skates
3.5 Roller hockey
4. Indoor verses outdoor skating
5. Conclusion
1. Rollerblades vs Roller Skates vs Inline Skates
Fitness has been an integral part of life, and skating is one of the top choices among many fitness sports equipment. Skating is a popular activity that people take part in across the globe. It's even used in many sports like roller hockey, roller derby, and rollerball.
There are two types of skating.
Roller skating
Inline skating
Both skates are great form to meet the purpose for skating. To stay in shape, skating becomes a favorite workout.
Roller skating:
Roller skating is a traditionally familiar skating concept. It consists of four wheels with adjacent pairs. Indoor people prefer roller skating. It is highly stable, has wider handles and is great for cruising. These skate wheels look stylish like boots and are used for sports.
Inline skating
This skating is a little modernized. The four-wheeled inline skates are smaller and thinner than the roller skates. This requires balance and strength. People prefer inline skating for outdoor movement.
Now look at the areas they differ:
Roller skating is a lot of fun. But if you are new to roller skating or just returning to this wonderful hobby after decades, you may not know which type of skate you should choose. In this article, we'll compare roller skates, inline skates, and roller blades to help you decide which is best for you.
2. What is the difference between roller skating and rollerblading?
Rollerblading is a type of roller skating. However, no matter whether you wear inline skates, rollerblades or quad skates, you are roller skating.
Quad skates, inline skates and roller blades are all types of roller skates. However, your skill level, experience, and the type of roller skating you plan to skate will really help you determine the best skates for you.
The biggest difference between inline skates and roller skates is how the wheels are set up. It also affects how skates work and what kind of people they like. Also, some sports, such as roller derby and roller hockey, use one type of skate and not the other, which can make it a little easier to determine what you want to learn.
When it comes to roller skates, there are four wheels that are arranged in two rows, like a car or a skateboard. In front of them are thick wheels with rubber brakes, and to use the skates must be laced up. You can think of it like a leather boot with a set of wheels underneath.
Roller skates are often used for roller derby, artistic skating, and jam skating. On the other hand, freestyle, roller hockey, and speed skating are more commonly done with a pair of inlines. If you want to spend most of your time skating outside, an inline is going to be the right choice. Roller skating is typically done inside instead.
With a rollerblade, there are still four wheels, but they are all in one row. Inline skate wheels are also thinner than roller skate a wheel, which means less stability. The rubber brakes are located at the back, not the front. The body of the skate is firm and will have air spaces for ventilation of the foot and ease of breathing in the legs.
Roller skates are often used for roller derby, art skating, and jamming. On the other hand, freestyle, roller hockey, and speed skating are most often performed with a pair of inline rollers. If you want to spend most of your time skating outside, then an inline skates is the right choice. Roller skating usually done inside instead.
Inline skates and roller blades are the same kind of different names. The difference is that roller blades is a brand of inline skates.
If you want to know the difference between inline skates and roller blades, please click here to see the detailed introduction.
2.1. Quad Roller Skates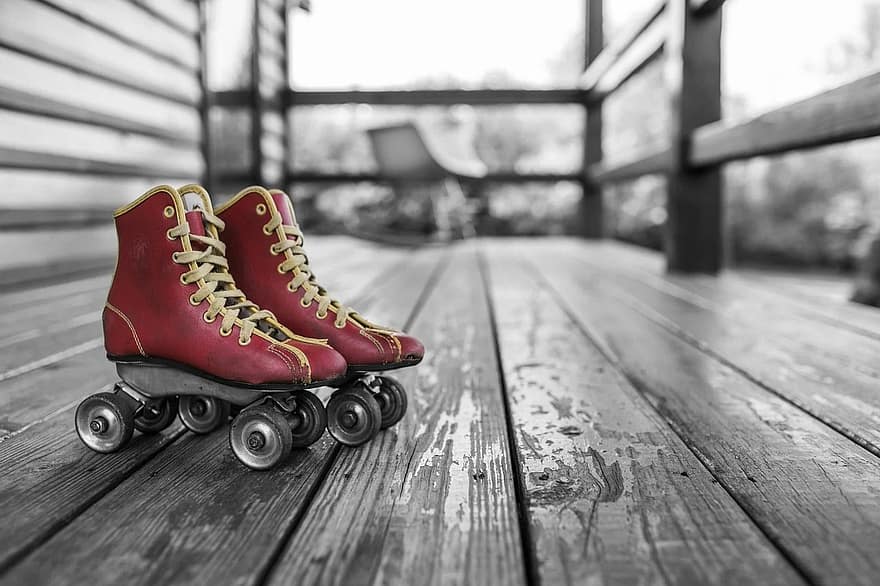 Quad rollers are the traditional skates that most people used on a roller skating rink or as a child. Each quad has two axles like a car, with an axle in the front and one in the back. Each axle has two wheels - one on the left and one on the right. Each wheel has two skate bearings inside and the wheel is attached to the skate with an axle nut. Quad skates come with either high or low boots.
2.2. Rollerblades
 Rollerblades are technically a type of inline skate. Thus, you will see that the terms Rollerblades and inline skates are used synonymously. Roller blades are roller skates with a single axis running along the length of the boot. Wheels 3-5 are then inserted into the ridge plate and locked in place with a long axle nut. Most roller blades have a sturdy high top boot and a brake on the back of the right skate.
These skates are ideal for outdoor skating, unlike roller skates. They are also great for speed-star skaters and are used in more roller sports than quads such as roller hockey, speed skating, and freestyle inline skating.
2.3. Inline speed Skates
Inline speed skates are special skates that are used by skaters. Like rollerblades and other inline skates, inline speed skates have one axle with 3-4 wheels that slide into the axle and are secured with a long axle nut. These skates have very short boots with a low cut to make turns easier for the skater.
Advantages of Inline speed skates
Fast movement
Good pick up for advanced moves like backward, crossover turns.
Good aerobic exercise
Balance dynamically keeping the body in motion
Keep balance, coordination, and agility in equal proportion.
Increases self-confidence
The skates are used according to specific sport but Inline skates and rollerblades are technically used for all type of sports. The single line designed inline skate is best for turning, maneuvering, and versatile movement.
Its pattern is like ice skating, and it is obvious that ice skating is the superior choice for speed and dynamic skating. But getting a flat icy path is not in our hand, so inline skating is to pick up for best results.
If you are a person love traveling along the path with high speed wearing headphone in tuned with hip hop music and quick arrival at the destination, you must go for inline skating.
3. Different types of Skates according to activity
3.1. Roller derby 
Roller derby is one of the most popular roller skating sports today. All roller derby players wear quad roller skates when playing roller derby. If you think roller derby is in your future, then you will want a pair of quad roller skates.
3.2. Speed skaters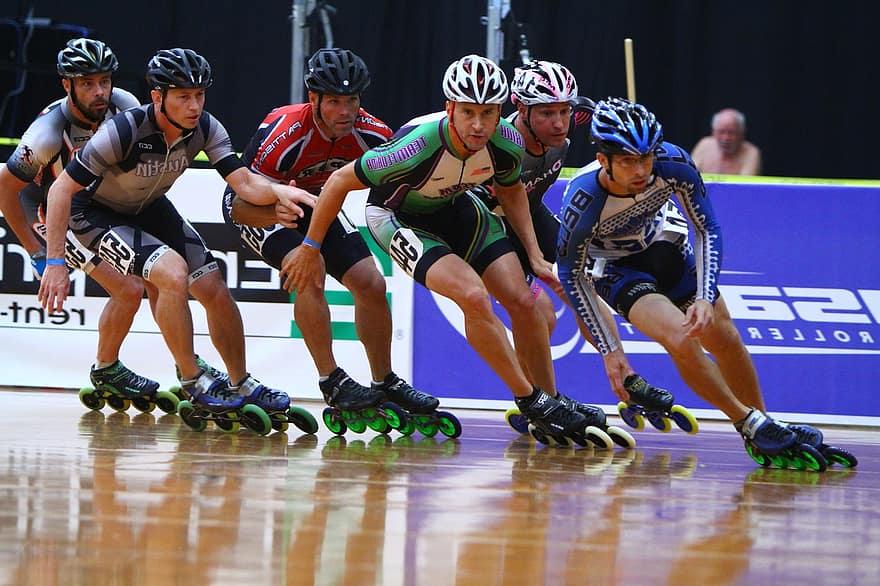 Speed skaters wear inline speed skates when competing. However, inline speed skates are just faster than quads (or rollerblades for that matter). It has to do with the height and thinness of the wheels. Racing skates are skates that were designed to go fast, simply put. The shoe (boot) is designed so that it fits as close to your foot as possible allowing you the least amount of wind resistance. The wheels of these skates are easily interchangeable to allow the skater to skate indoors or outdoors.
3.3. Artistic roller skating
Artistic roller skating is primarily done in high-top quad roller skates. However, some competitors now do artistic roller skating in special artistic rollerblades/inline skates. They said they do better with inline skates.
3.4. Recreational Skates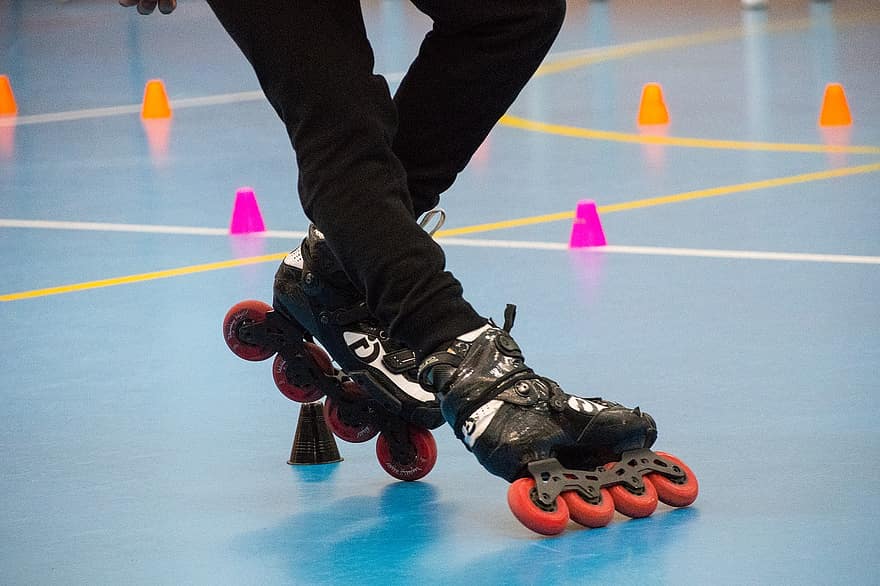 Also known as fitness skates, these recreational roller blades are designed for the skater who wants a good pair of skates to exercise in, usually outdoors. The shoes (boots) are high top which offers excellent foot and ankle support. These recreational roller skates are also amazingly comfortable so that the skater can skate for longer periods of time.
3.5. Roller Hockey 
These are skates that are made for those playing the sport of roller hockey. Roller hockey is a very popular sport, especially among youth and young adults. These skates were designed to hold up to the abuse due to the nature of the sport. A serious player uses rollerblades while playing. Today there are special rollerblades geared at roller hockey.
4. Indoors Versus Outdoors Skating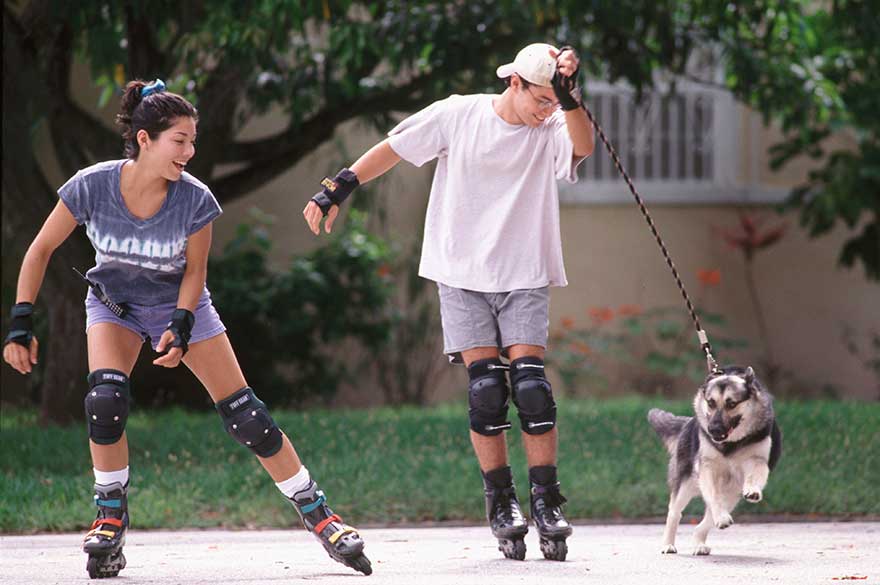 Both types of skates work well both outdoors and indoors, but in some landscapes, some skates are preferable to others, but inline skates are generally more comfortable to move faster and further outdoors due to the wheel alignment.
Small stones are easier to get stuck between two in-line wheels because the wheels are close together, stopping those wheels and stumbling a person. However, the less space occupied by the built-in wheels can make it easier for them to dodge small objects. But in general, narrow inline skates work best outdoors.
Roller skates are most commonly used indoors, such as roller derby and roller discos. There are some historical reasons for this became very popular in the 1860s and later when ice rinks were opened for this purpose. Rollerblades are easier to go faster because their wheel alignment reduces friction and sometimes larger wheels. When you're outdoors, being able to move faster is essential. You usually see more people rollerblading on the street, in part because more people, in general buy rollerblades, but also because they are faster, so it is easier to travel further with them.
If you are referring to a specific sport, then it should be clear which skates you should buy. Roller derby uses roller skates, and in speed skating, roller skates. Inline skates are also used for dancing. If you like ice skating for your leisure time, you can choose any of them, but it's worth noting that inline skating is easy to move quickly. This does not mean that you will be racing when you first learn, unable to control yourself, but you will use your muscles more effectively to cover the distance. You have to be a little bit better at rollerblading to keep up with the speed you get easier on roller skating.
You may also have a visual preference for one skate and its associated style, and you too can make a decision based on that. Perhaps you just love the look of roller skates, you will love them if you take the time to train. In general, blades are probably better suited for day to day use in a practical sense just because they can move more efficiently.
5.Conclusion
Roller skates will give a good feeling of skating, while inline skating will bring you amazement in the world of skating. This inline skating over the years has been so popular for its outstanding shape, speed, and overall structure. So, we suggest you grab inline skates for the best experience, as the medical world has prescribed inline skating a better work out for health and mind than jogging. Just understand the purpose of skating and your comfort and you'll have your best one.
Learn more about Inline skates for men and women