How Long Do Inline Skate Wheels Last?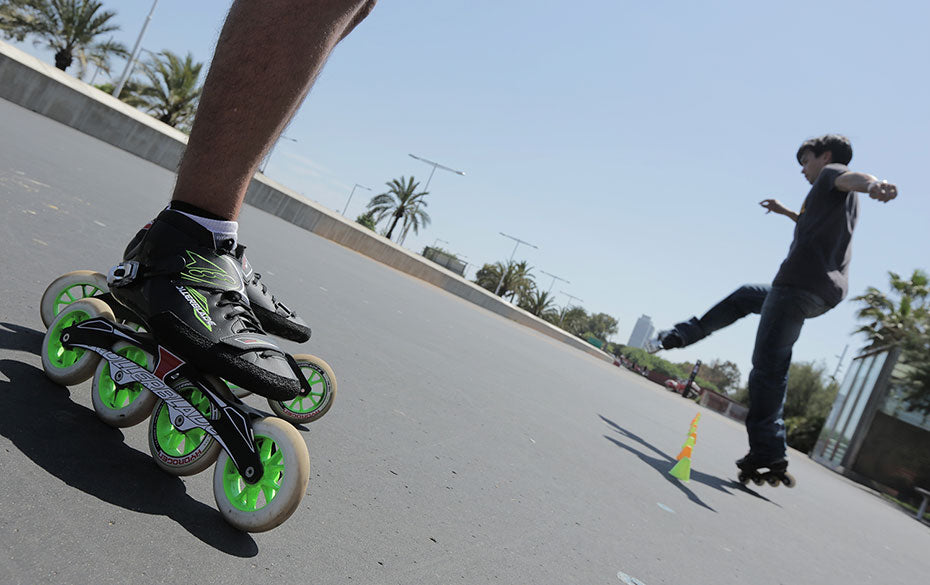 As any belongings require maintenance and care as your inline skates do. Either you are using them regularly or just for a while, they need to replace after a certain time period. It depends on how you use them and which quality of skates do you use. Knowing your inline skates maintenance and replacement of wheels may save your time, money, and energy. This article entails all necessary information and analysis to replace the skate wheel and their maintenance so you can rock on your inline skates!     
Primer:
 Skating refers to bolting high-speed cruising and covering long distances within the shortest time. Skaters opt for various skates to optimize their performance better than comfort and reach the maximum efficiency level given at every stroke.
Inline Skates serve the primary purpose of fitness, thrill, desire to adventure, or cruise at high speeds. Skaters often purchase them to use within their clubs, skating competitions, ice skating, and occasional races.
By the time your inline skates wheel gets a rough surface or uneven edges. What do you think about how long an average pair of skates last? It depends on many factors. Inline skate wheels are the essential part of skates. They are made with high-quality plastic and need replacement and maintenance as other equipment.
To long-lasting your inline wheel set up, you need to replace them frequently and change them when needed. Moreover, every part of the skating system includes bearing, wheels, boot, liner, and cuffs, require care and maintenance to last them.
Table of content
In this article you will find:
1. How long do inline skate wheels last?
1.1. How you use the Skates?
1.2. Where you use the skates?
1.3. The type of wheels used in skates
1.4. Your habit of using them
1.5. Your skating skills
2. When should you replace rollerblades?
2.1. Change in size of shoes
2.2. Deterioration
2.3. Upgrade skill level
3. Rotation of rollerblade wheels
4. Replacement of rollerblade wheels
4.1. On early stage
4.2. On advance stage
5. Essential components of skates
6. Which Components on Skates Wear Out First?
6.1. Skate wheels
6.2. Skate Bearings
6.3. Skate Boots
6.4. Inner Skate Shoes/Socks
6.5. Closure Systems
6.6. The Buckles
6.7. Laces
6.8. Brakes
7. Wrapping it up
First, let's dive into which factors determine how long your skates wheel last.
1. How long do inline skate wheels last?
It depends on your skating style, habit, type, and quality of inline skate. If you are using your inline skate four hours a day and five days a week of speed, aggressive and urban skating purposes, you might need to change your skating wheels soon.  Eventually, it depends on many factors.  
If you opt for your inline skates occasionally, such as once a week, and maintain your skates carefully, the same skates could last 20 years.
The time period for skating wheels endurance depends on:
1.1. How you use the Skates?
Of course, if you use them often or daily 3, 4 hours a day, the parts of inline skate and wheel set up undergo wear and tear process. Regular use of skate causes the edges to wear out and sharpen at the ends. It shows the early stage of deterioration, and the wheels look uneven.
1.2. Where you use the skates?
Usually, skaters choose sidewalks, parks, and parking lots for skating, but sometimes they tend to go uneven surface, as skaters do in urban skating and rough terrain. The surface counts a lot for the life span of skating wheels.
Skating on flat, even, and smooth places will increase the life of your skating setup. Rollerblading on uneven terrain, trails, and granules of stones, wet surfaces, mud, and sandy areas may damage your wheels.
1.3. The type of wheels used in skates
Skate wheels are made with polyurethane so it can be round, square and elliptic. The wheel core is made with aluminum, Carbon composite, Glass fiber composite, Rislan, and plastic. High-end inline skates manufacturer always uses premium quality plastic and aluminum to provide comfort and no vibration while skating.
1.4. Your habit of using them
The frequency of using inline skates count a lot as your skating habit also matters.  If you land them harshly or bash into other people, or suddenly race them or accelerate them, your skating wheels undergo a deteriorate process sooner.
In case of professional use such as hockey or sports purposes, you need to change your wheels very soon; it depends on usage.
1.5. Your skating skills
Novice skater or beginners started to learn balancing on skates, and there are many chances of falling. During this practice period, the chances of wheel damages and bearings are higher. As you get experience, you can control more on wheels and take good care of your inline roller skates.
2. When should you replace rollerblades?
Obviously, as every machine requires maintenance and proper look after as a skate need. Over a specific period or regular usage, inline rollerblades get deterioration. You can see some visible signs of wear and tear out and observe that it's time to replace the wheels or skates.
It depends on the usage of your skate and how happy you are with your skates. If your inline rollerblades have holes or tears that impact their efficiency, then you should change them.
If the skates are in good condition, but wheels have worn down on one side, you must swap the wheels. If you are more concerned about your skate's performance, you need to change the skate rather than repositioning the wheels. Some signs show when you should think about to change skates.
2.1. Change in size of shoes
Suppose your rollerblades do not fit in your feet. It happens even with adults that their feet outgrow their show size. In case of growing age, such as kids outgrow their show sizes soon, or women before and after pregnancy have different sizes, you need to replace the skates. Another case is ill-fitting, snug-fitting, or loose-fitting may affect your performance, and you need to change the skates.
2.2. Deterioration
Although rollerblades are designed to endure for a long time but over time, they get wear and tear on. When you observe that your skate wheels are torn and damage with cracks, your skate frame is bent or have holes, you have an option to replace them. However, if skate boots are too shabby and faded, you must think about to replace the skates. The boots' leather has cracks, broken lace holes and shapeless ankle support, indicating that it's time to change the skates.
2.3. Upgrade skill level
Basic or simple inline rollerblades work great for moderate skill level skaters. Beginners use the simple or beginners roller skate, which works fine when practicing to learn inline skating.
However, when you get experience or learn a new skill, you need to switch specific skates. Skate manufacturers launch various rollerblades according to specific skills such as speed skates, jam skating, or aggressive inline skating. Thus it would be best if you changed skates after learning a new skill.
3. Rotation of rollerblade wheels
To maintain your rollerblade speed and performance, you must keep an eye on skate wheels.  Wheels that are soft in nature are likely to damage soon as compare to the hard wheel. However, it also depends on your skill level and skating surface. It is always recommended that must buy skates according to the terrain. Rotation of wheels is like you rotate the wheels of your car. Rotation saves your wheels from wear out. Moreover, rotation may enhance the endurance of the wheel set up.
In the rotation process, the wheels' position has changed, and you fix them on different spots on the skate frame.
4. Replacement of rollerblade wheels
The wheels are the first part that damage soon. If you rotate them frequently, they may decrease their size from 84s to 70 in size. Rotation may also lead to reducing the size, but their wear will be more even.
If you observe splitting in the wheels, it's a sign to change the wheels because it affects your performance. Usually, premium quality rollerblades last for a decent time period. Even if you use them frequently, wheels remain in good condition at least for a month.
When your wheels don't last more than one month, you must try another brand. However, the rotation will work as maintenance of your skate wheels, but low-quality wheels wear out soon. Thus it would help if you replaced the wheels.
You can opt for soft wheels and hard wheels according to your skating style and comfort. You can ask for experts or take advice from your skating group about the wheels, or you can compare the hardness of wheels between different brands.
You can look for the signs when to replace the wheels.
4.1. On early stage
When you observe your wheels are worn out in shape and have uneven edges, it's a sign to replace them. Regular use of skating damage edges and illustrate that wheels require a rotation. You can flip the wheel sides and reposition them to avoid an unstable ride.
4.2. On advance stage
On the advanced stage, the wheels are splitting and worn down severely. Never take a risk on this stage when your skate wheels are worn out and cracking of the core.
5. Essential components of skates
A skate has the following essential components that make its performance smooth.  Essential components support feet and provide stability to skaters. Such as, skate wheel, bearing, skate boot, Inner skate shoes, straps, buckle, laces and brakes. 
6. Which Components on Skates Wear Out First?
6.1. Skate wheels
The first and foremost component on skate which wears out soon is wheels. We discuss above in detail on which condition wheels damage soon. You need to keep an eye on wheels and maintain them by rotation or repositioning them.
 6.2. Skate Bearings  
Bearing plays an essential role while you stride. They ensure the quality, speed and smoothness of your ride. Bearing reduce the friction between moving wheels and non- moving frame plate. The inline skates are patent with ABEC scale odd numbers like ABEC-1, ABEC-2, ABEC-3- ABEC-4, and so on. The higher rating of bearing determines how precise bearing is used in the skates.
They are a delicate component of inline skate and need to maintain by keeping them clean from dust. You don't need to replace them often, but when you feel that you do not glide smoothly, it is a clear sign to replace them. The bearing could last many years if you look after them well.
 6.3. Skate Boots
Boots are an essential component of skate, and boot can scratch up bad, but they are perfectly good to go because they are usually made of plastic, and plastic lasts for a long time. They are not easily worn down, but in some cases, they may get damage early.
6.4.  Inner Skate Shoes/Socks
The inner sole can damage soon as compare to skate boot. Especially when they get wet, there are many chances of bacteria and mold forming. These components can be cared for by using the anti-bacterial spray in it.
6.5. Closure Systems
The closure system provides more support and stability while you skate.  It depends on your personal choice of what type of closure system you like for your skate. In modern inline skates, many types of lacing are used. Mostly Velcro strap can deteriorate soon. When you feel that Velcro doesn't work sticking together anymore, you need to clean them.
6.6. The Buckles
You must keep an eye on each component of your skate. Buckles can also deteriorate after some time. The buckle's end is made with metal, and it may last longer, but if it is made with plastic, it may snap soon. You need to check the buckles are riveted in place properly or not.
6.7. Laces
Laces can last for long, and usually, you don't need necessarily to replace them soon. One thing that can last its endurance that you should grease them properly.
6.8. Brakes
The braking system is an essential part of inline skates. This system enables skaters to control speed and balance stability during skating. Mostly inline skates come with a braking system; however, some specialized models such as race skates, hockey skates and aggressive inline skates don't offer a braking system.
Brakes will damage soon as compare to other components. It depends on your style. How often do you use them? Your bodyweight and terrain also play an essential role. If you are using the brakes frequently and skate on an uneven surface, you may need to change brakes soon.
Many experienced skaters, Specific inline skates, such as aggressive skates, race skates and roller hockey skates, do not offer any brake. Experienced and professional skaters use these skates, and they think that brake systems tend to get in the way of performance.
7. Wrapping it up
We cannot agree more having inline skates and maintain it properly may prove to be a tedious task. Thus, before the inline skating season starts, it is essential to hands on a perfect pair of inline skates to achieve your goals and polish your skating practice.
With the above-detailed auricle provided on how long do inline skates wheel last to consider before skating, we are sure you will quickly grab on a perfect pair of skates in no time and learn how to maintain its components.
Even if you seem to have difficulty in making the right decision for yourself, don't you worry as we at INLINESKATESLOVER got your covered with a premium range of inline skates with strong built quality and capacity that may suit your preferences just perfect? Also, not to forget with assistance at every step of your ordering is our topmost priority!